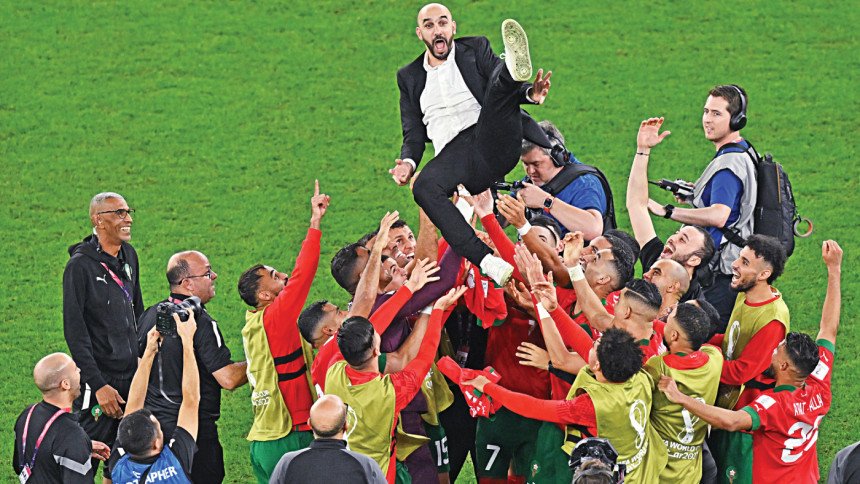 Morocco ride Arab wave to history
GBNEWS24DESK//
Morocco rode a wave of passionate support and kept the World Cup dreams of the Arab world alive as they eliminated fancied Spain in a penalty shootout on Tuesday to reach the quarterfinals.
In doing so, they became the first Arab nation to advance to the last eight, ensuring a breakthrough for the region in the first global tournament in the Middle East, and also became the fourth African side to go this far in World Cup history.
Their victory will be seen not only as a triumph for Morocco but vindication of the controversial FIFA decision to hand Qatar the hosting rights, adding significant gloss to another Arab success at the tournament like Saudi Arabia beating Argentina and Tunisia upsetting holders France in the group phase.
Morocco, who edged Spain 3-0 in the shootout after a 0-0 draw at the end of two hours of energy-sapping action, now have a chance to become both the Arab world and Africa's first-ever semi-finalists if they continue to use the overwhelming support that has backed them through an impressive array of results.
The ear-shattering cacophonic combination of singing, drumming, jeering and whistling from Morocco's supporters has created an atmosphere like no other in Qatar's stadiums.
Morocco were happy to allow Spain possession but in the end were desperately hanging on for the shootout as they battled injury and fatigue and lived dangerously in the closing stages.
"We fought and made the Moroccan people happy, we made history and Morocco deserve it, Moroccan people made us united on the pitch," coach Walid Regragui said.
Morocco defender Jawad Yamiq was proud of his team's performance. "We knew that Spain depend on their ball possession and we played with that in mind. They didn't impose any danger," he said.
"We honoured the Arab and African football, coach Regragui gave us the confidence that we needed in this game, a big boost in morale."
From the words uttered by Spain coach Luis Enrique and his players, it seemed that the Spaniards were struggling with the result.
"If we did anything, it was dominate the game. I am more than satisfied with what my team has done. They have perfectly executed my idea of ​​football. I am proud of them," Enrique said, adding that this was not the time to be weighing up his future with the national team.
Enrique also revealed that he had chosen the first three penalty-takers.