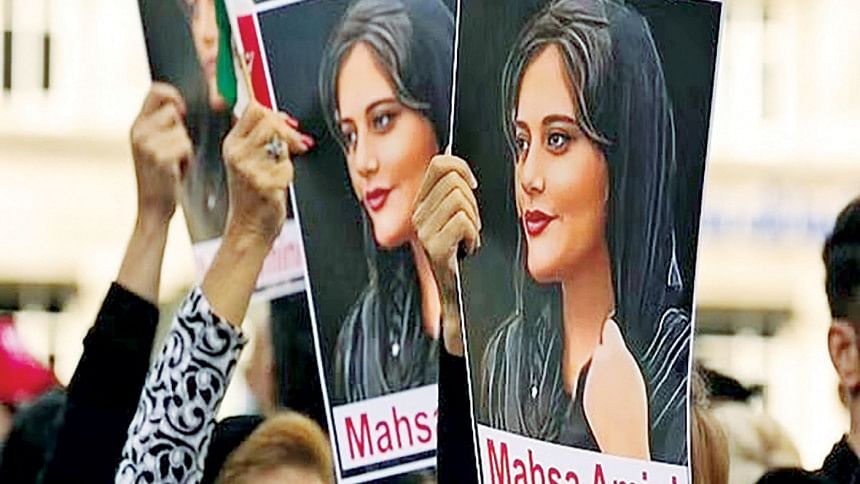 EU imposes new sanctions on Iran
GBNEWS24DESK//
The EU yesterday placed 37 more Iranian officials and entities on an asset-freeze and visa-ban blacklist over Tehran's bloody crackdown on protesters, officials said.
The fourth round of sanctions against Tehran over its repression of demonstrators was adopted by the bloc's foreign ministers meeting in Brussels. The full list of names was to be given in the EU's official journal later yesterday.
The bloc has already imposed sanctions on more than 60 Iranian officials and entities over the crackdown on protestors, including targeting Tehran's "morality police", Revolutionary Guard Corps commanders and state media.
But the 27-nation EU has so far stopped short of blacklisting the Revolutionary Guards themselves as a terror group despite calls from Germany and the Netherlands to do so.
Iran has warned the bloc against taking the move and EU officials are wary that it could kill off stalled attempts to revive the 2015 deal on Tehran's nuclear programme being mediated by Brussels.
EU foreign policy chief Josep Borrell insisted that there needed first to be a legal ruling in an EU member state first before the bloc could make the move.
"You cannot say: 'I consider you a terrorist because I do not like you'," Borrell said.
"It has to be done when a court of one member state issues a legal statement, a concrete condemnation."
Demonstrations have swept Iran since the September 16 death in custody of Iranian Kurdish woman Mahsa Amini, 22, after her arrest in Tehran for allegedly failing to adhere to the Islamic republic's strict dress rules.
The UK also yesterday sanctioned five more Iranian officials, including the deputy prosecutor general, over what it said was the "horrific violence" the regime was inflicting on its own people.
"These sanctions, alongside designations by the European Union and the United States, demonstrate the international community's unified condemnation" of Tehran, the government said.
Meanwhile, Iranian authorities have arrested three female journalists in the past two days, local media said yesterday, amid months of protests triggered by the death in custody of Mahsa Amini.
"In the past 48 hours, at least three female journalists, namely Melika Hashemi, Saideh Shafiei and Mehrnoush Zarei, have been arrested in Tehran," reformist newspaper Etemad quoted the Tehran journalists' union as saying.
The paper said the three women had been transferred to Evin prison, where many of those arrested in connection with the protests are being held.
It estimated that about 80 journalists have been arrested since the start of the unrest in the country four months ago.