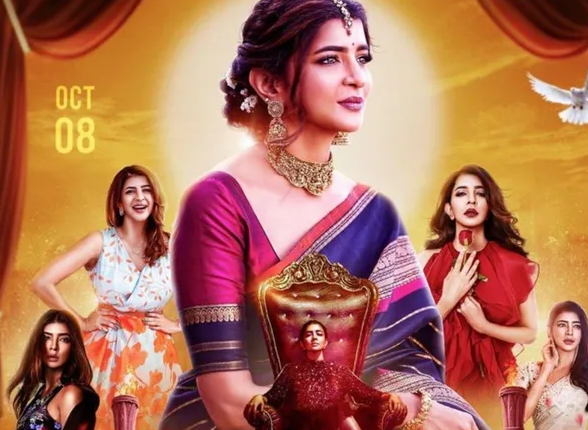 'Love you 3000': Mohan Babu, Hansika Motwani and more send out sweet wishes to birthday girl Lakshmi Manchu
GBNEWS24 DESK//
Manchu Lakshmi Prasanna, famously known as Lakshmi Manchu, turns a year older today. An actress, producer and television presenter, Lakshmi wears many hats and all of them to perfection. As the celebrated actress celebrates her birthday today, many of her closest friends and family members took to social media to shower her with love, wishes, and blessings.
The sweetest birthday wish came from her father and superstar Mohan Babu, who shared an unseen photograph of Lakshmi. In his wish for the birthday girl, Mohan Babu expressed his unconditional love and called her his "priceless treasure". His post read, "Wishing many happy returns of the day to my priceless treasure @LakshmiManchu. Enni Janmalaina nuvvu naa kuturuga puttalani, aa devudni pradhisthuna. Love you 3000. #HBDLakshmiManchu."
Alongside a childhood photograph, that is sure to leave you smiling, Mohan Babu also penned a note wherein he compared Lakshmi to the most precious of diamonds. "If I take a new birth, I pray to the five elements to bless that she is born as my daughter once again," he wrote in the emotional post.
Another celebrated star, Manoj Manchu dropped a heartwarming wish for Lakshmi. In his post, he also shared the common display picture, popularly called CDP to mark the actress' birthday. "Here is my lovely akka's common DP Smiling face with heart-shaped eyes. Advance Happy Birthday akka @LakshmiManchu."
Actress Hansika Motwani shared a sweet wish for Lakshmi and wrote, "Happy birthday beautiful @LakshmiManchu. Have a bless one" on Twitter. Another wish came from Suresh Productions' official Twitter handle that read, "Happy birthday to the ever so energetic and beautiful @LakshmiManchu gaaru! May this year be as vibrant as you are."
Lakshmi made her acting debut with the American television series Las Vegas, where she played the role of Sarasvati Kumar, the love interest of James Lesure. She was also seen in one episode of many other shows including Desparate Housewives and Mystery ER.