London Bridge terror attack heroes on Civilian Gallantry List
GB news 24 desk//
Heroes of the London Bridge terror attack, including two who died, have been recognised for their bravery.
Three police officers and five members of the public who confronted the attackers or aided others are included on this year's Civilian Gallantry list.
Twenty people in total have been approved by the Queen for awards to recognise their "outstanding bravery".
These include a paramedic who helped knife attack victims and four men who rescued 63 people after two shipwrecks.
A backpacker and a grandfather who were each killed while trying to rescue others in separate tragedies have also been given posthumous awards.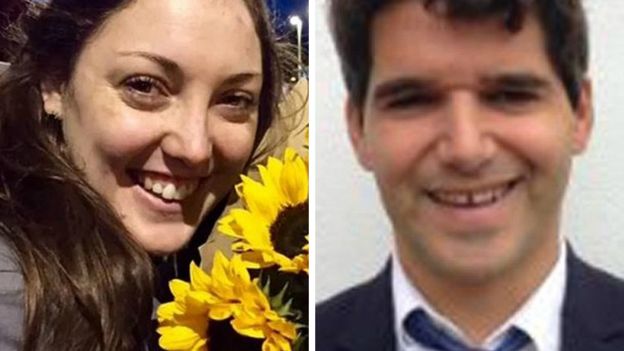 Ignacio Echeverria and Kirsty Boden were among the eight victims of the terror attack in London Bridge and Borough Market last year.
Spanish banker Mr Echeverria has been posthumously awarded the George Medal after he confronted the knife-wielding terrorists with only his skateboard.
The award committee said his actions had "undoubtedly prevented further loss of life" by giving time for others to run away.
Ms Boden, who was a nurse, was killed as she tried to save another person's life on the bridge.
Her family said they were "very proud" of her after she was awarded the Queen's Commendation for Bravery.Two police officers who were both seriously injured when they confronted the three terrorists have been given George Medals.
British Transport Police (BTP) officer Wayne Marques, who took on the attackers armed with only his baton, said the award was "a great honour" but reflected on the efforts of others that night.
"For every evil that was done there are some fantastic stories of bravery and courage," he said.
Met PC Charles Guenigault was off-duty at the time but rushed to help PC Marques when he saw what was happening and was stabbed repeatedly.
He praised the efforts of Ellen Gauntlett and Justin Jones, who helped him and took him to hospital, and have been recognised with the Queen's Commendation for Bravery.
"I can't thank them enough for what they did," he said.
BTP officer PC Leon McLeod said he was "shocked" to receive a Queen's Commendation for Bravery for running at the terrorists and then providing aid to victims following the attack.
Romanian Florin Morariu, who threw crates at the attackers then helped people hide in his bakery, has also been recognised with the same award.
The fourth recipient of a George Medal is Hassan Zubier, who came to the aid of victims of a knife attack while he was on holiday with his family in Finland.
The paramedic, who was born in Kent but now lives in Sweden, sustained wounds to his neck, chest and arm as he fought a knifeman who stabbed two women to death.
Mr Zubier, who now has to use a wheelchair because of his injuries, said he was "honoured to be recognised" but received the award "with mixed feelings, remembering that two people lost their lives".
Four border force officers are recognised with a Queen's Commendation for Bravery for rescuing people after two different ships capsized.
Lee Townsend, Stuart Woodland and David Sant saved 43 lives when a fishing boat carrying immigrants from Turkey foundered off the Greek island of Farmakonisi in January 2016.
The committee said the men "displayed exemplary acts of bravery, dedication and commitment" as they pulled people from the water and performed CPR despite their crafts losing power and hitting rocks.
Gareth Leadbetter led a crew in the rescue of 20 people after a vessel carrying suspected illegal immigrants began sinking near Dungeness in extremely poor weather conditions.
Queen's Gallantry Medals have been awarded to two men who tried to save British backpacker Mia Ayliffe-Chung, from Derbyshire, who was attacked and killed in an Australian hostel in 2016.
Thomas Jackson, from Cheshire, was stabbed numerous times when he and Welshman Daniel Richards tried to care for Ms Ayliffe-Chung and calm down her attacker.
Mr Jackson died six days later. His family said that while the award was "a bittersweet moment", the 30-year-old "will always be our hero".
Richard Guest, 74, from Walsall, was killed when he and Stephen Adams tried to rescue two teenage girls who had got into difficulty while in the sea in Tywyn, North Wales, in 2015.
The awards committee said the men had "demonstrated unselfish courage to ensure the safety of two strangers" by helping the girls, who both survived, and awarded them Queen's Gallantry Medals.
John Moore and Theresa Cosgrove are honoured for rescuing a woman from a burning car moments before it exploded after a collision with a motorbike in Elstree in 2014. The couple had already pulled the motorcyclist off the driver and away from the vehicle.
Mr Moore, who used his body to shield the others when the car exploded and suffered burns, received a Queen's gallantry medal while his partner Ms Cosgrove was commended for her bravery.
Door supervisor Sean Moore has also been commended after he was stabbed when he stepped in the way of a man who was attacking a victim with a broken bottle in a bar in Derby city centre.