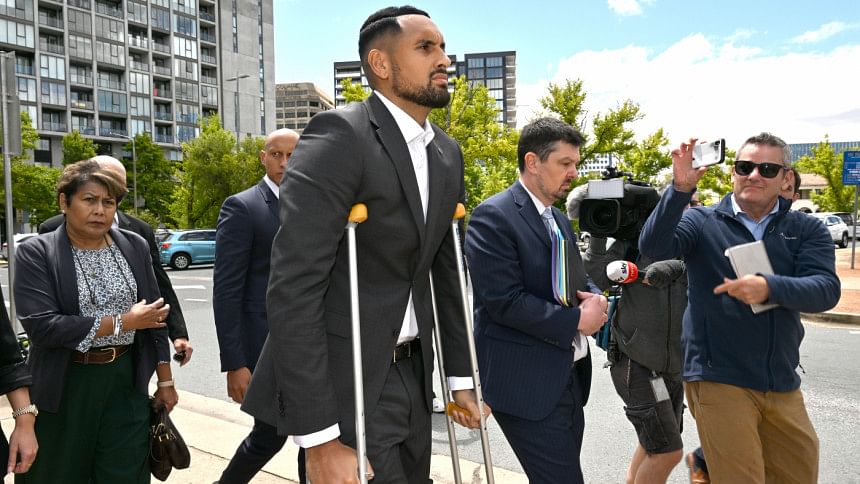 Kyrgios pleads guilty to common assault in Canberra court
GBNEWS24DESK//
Australian Tennis player Nick Kyrgios pleaded guilty to a common assault charge in a Canberra court on Friday.
The Wimbledon finalist hobbled into the court building with a pair of crutches and a brace on his knee after suffering a "gruesome" injury that sidelined him at last month's Australian Open.
Kyrgios arrived for the hearing flanked by his current girlfriend Costeen Hatzi, an interior designer, and his mother Norlaila.
The 27-year-old Kyrgios, who is currently ranked 20th in the world, did not speak to reporters on his way into the building.
The incident, alleged to have taken place in December 2021, has not been detailed, but national broadcaster ABC has reported that it involved his former girlfriend.
Lawyers for Kyrgios have previously indicated that he would seek to have the charge, one count of common assault, dismissed on mental health grounds.
The case was adjourned in October, as Kyrgios prepared to play the Japan Open, so experts could prepare mental health reports for the court.
"There's only so much I can control and I'm taking all the steps and dealing with that off the court," Kyrgios said from Tokyo at the time.
Canberra-born Kyrgios, known for his mercurial talent and on-court outbursts, has spoken publicly about his battles with depression and the pressures of global tennis fame.