Firefighters are tackling a blaze at a block of flats in north west London
GB news 24 desk//
About 100 firefighters are tackling a blaze at a block of flats in north west London.
The London Fire Brigade was called out to a fire on the top floor of the five storey building in Inglewood Road, West Hampstead, shortly after 01:00 BST.
Around 50 people have been evacuated from the block, and two people were helped out by firefighters.
The service said there are currently 15 engines at the scene dealing with the incident.
London Ambulance Service sent crews to the scene, but they have not taken any patients to hospital.
Station manager Clainton Murray said: "The fire is believed to have started in a flat on the fourth floor.
"The fire is also affecting the roof and in the early stages was very visible for miles around."
He added: "Due to concerns that the roof could collapse inward firefighters evacuated residents from the top floor.
"In addition fire crews assisted two people from the first floor and a number of other residents self evacuated from lower floors."A London Ambulance Service spokesperson said they were called to West Hampstead at 01:17 and remain on the scene.
They added: "We sent two incident response officers, a single responder in a car and two ambulance crews.
"We also dispatched our hazardous area response team."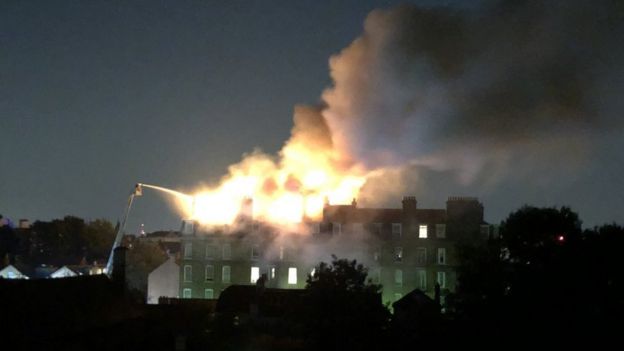 Angelica Malin lives near to the flats and can see the blaze from her bedroom window.
"I can see firefighters inside as the roof is on fire and there's two men on cranes working on putting the roof fire out," she said.
"It's so scary – my flat is filled with the smell of smoke. The firemen have been amazing and I feel comforted by the incredible response."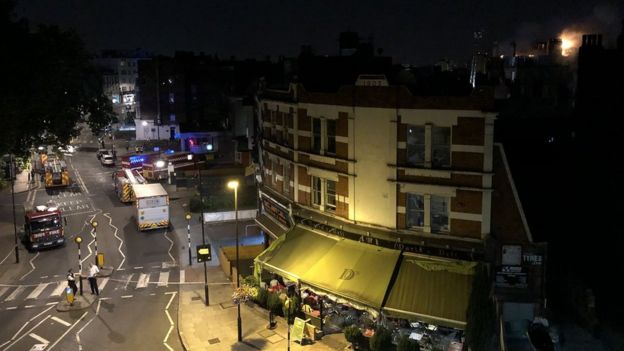 The Black Lion pub in West Hampstead has offered shelter to anyone affected by the fire.
A post on Twitter said: "Anybody affected by the current fire in West Hampstead – our doors are open.
"Please anyone near stay safe. We will be here all night."