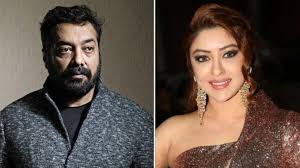 FIR filed against Anurag Kashyap at Versova police station; Payal Ghosh accuses filmmaker of rape
GBNEWS24 DESK//
Actress Payal Ghosh filed an FIR against filmmaker Anurag Kashyap at Versova police station on Tuesday. The actress was supposed to file a formal complaint against the filmmaker at Oshiwara police station earlier. However, she couldn't file it due to the absence of any lady constable.
The actress levelled sexual harassement allegations against Kashyap on Saturday through her verified Twitter account. A day later, she claimed in an interview that Kashyap stripped in front of her and tried to molest her in 2014 at his residence.
Payal's lawyer Nitin Satpute shared in a tweet that the actress has accused the filmmaker under sections  376, 354, 341, 342 of the Indian Penal Code. An official statement was also issued by the lawyer, which read, "A written complaint has been lodged for the offence Rape, wrongful restrain, wrongful confinement and outraging the modesty of woman U/S 376, 354, 341, 342 of IPC and now the statement is being recorded of the victim."
Meanwhile, Anurag Kashyap has denied all allegations of sexual misconduct levelled by the actress against him. In an official statement, Anurag's lawyer said that the accusations are "completely false, malicious and dishonest".
"My client, Anurag Kashyap, has been deeply pained by the false allegations of sexual misconduct that have recently surfaced against him. These allegations are completely false, malicious and dishonest. It is sad that a social movement as important as the #metoo movement has been co-opted by vested interests and reduced to a mere tool for character assassination. Fictitious allegations of this nature seriously undermine the movement and seek to unconscionably trade upon the pain and trauma of actual victims of sexual harassment and abuse. My client has been advised about his rights and remedies in law and intends to pursue them to the fullest extent – Priyanka Khimani," Anurag's statement read.
In an interview, Payal claimed that Anurag forced himself on her at his residence. She even claimed that the filmmaker was smoking and drinking at his apartment on the day the alleged incident took place.