British PM 'to appeal for unity' on Brexit vote
GB news 24 desk//
Theresa May is expected to urge potential Tory backbench rebels to unite behind the party ahead of crucial votes on the EU withdrawal bill.
She wants to overturn a series of amendments made by the Lords, but faces possible defeat if Conservative Remainers side with Labour.
Rebel MPs have suggested they have sufficient numbers to threaten the government and want more concessions.
Mrs May is expected to tell MPs it is their duty "to deliver on Brexit".
"We must be clear that we are united as a party in our determination to deliver on the decision made by the British people," she is expected to tell the backbench 1922 Committee.
"They want us to deliver on Brexit and build a brighter future for Britain as we take back control of our money, our laws and our borders.
It follows an article in the Sunday Telegraph co-authored by two senior Conservatives, Remainer Amber Rudd and Brexiteer Iain Duncan Smith, calling for unity in the party, and warning that any rebellion will only play into the Labour leader's hands.
Some pro-EU Tories were reported to be backing away from voting against government, over fears that a defeat could prompt a leadership contest and see Mrs May replaced by a far more hard-line Brexiteer.
Others, such as veteran Conservative MP Ken Clarke, however, have said the prime minister is being "undermined" by her ministers and needs to be "rescued".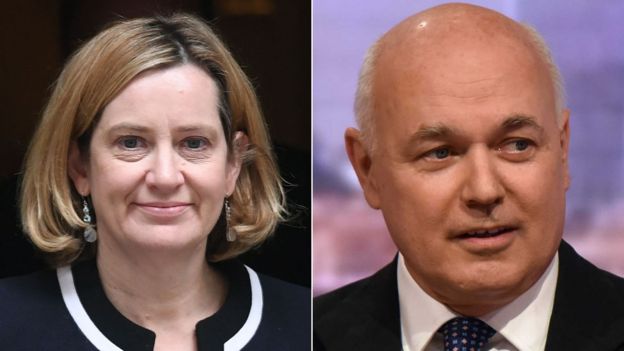 It follows a week when Mrs May faced reported threats of resignation from Brexit Secretary David Davis and a vociferous Boris Johnson warning the UK could remain "locked in orbit around the EU".
Two key amendments are raising the most concern: one which instructs Mrs May to negotiate a customs union with the EU, the second, which gives Parliament a decisive say over the final Brexit deal.
Labour are urging Tory rebels to side with them in the Commons on Tuesday and Wednesday with Labour's Sir Keir Starmer saying Tory rebels had a "real chance to change the course of the Brexit negotiations".
Housing minister Dominic Raab said he was "reasonably confident" the government, which will have the support of a handful of pro-Brexit Labour MPs and the 10 Democratic Unionist MPs, would prevail.
Passing the withdrawal bill would be a "turning point" in the Brexit process, he told the BBC's Sunday Politics, as it would be the basis for a "smooth transition" after the UK leaves.
Separately, Mr Davis is due in Brussels on Monday morning for the latest round of negotiations with his EU counterpart Michael Barnier.