Brexit: MPs say UK PM must honour 'assurances' over Parliament's role
GB news 24 desk//
Theresa May must honour "assurances" she's given that Parliament will get a bigger say on any final Brexit deal, pro-EU Tory MPs say.
The government averted a rebellion on the issue after a meeting between the PM and more than a dozen MPs.
One of the potential rebels, Dominic Grieve, warned there would be consequences for the government if not.
BBC political editor Laura Kuenssberg said a government source had told her no actual concessions had been agreed.
And a senior minister, Solicitor General Robert Buckland, said the government had only agreed to "further discussions" about the way in which they could make "a further step forward".
A group of MPs said on Tuesday they were offered, in a last-minute concession, real "input" if no deal with the EU was done by December
Details of precisely what this will involve could emerge in the coming days when the EU Withdrawal bill is due to return to the House of Lords.
The UK is due to leave the EU on 29 March next year, after the referendum in 2016 when people voted by 51.9% to 48.1% to leave.
Former Tory cabinet minister Mr Grieve, who, ahead of the vote, tried to broker a compromise between MPs and ministers, has warned that a no-deal scenario could lead to a "national crisis".
In such an event, he said Parliament should be able to flex its muscles by requiring ministers to come forward with a plan of action, which MPs would be able to debate and vote on.
"I expect the government to honour its commitments and I expect the PM to honour her commitments and I have no reason to distrust the approach she took with us," Mr Grieve told the BBC's Newsnight.
"If it were to turn out there was a problem, we will deal with it."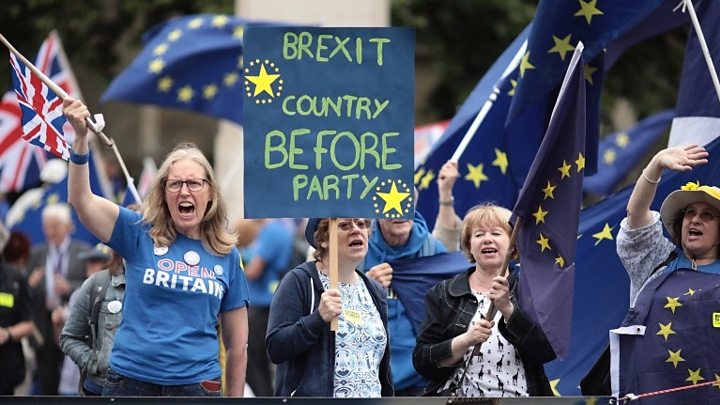 The government, which has promised MPs a "meaningful vote" on the final deal, avoided defeat on the issue on Tuesday as it overturned a series of amendments to the bill made by peers.
The victory – by 324 votes to 298 – only came after public haggling between ministers and would-be rebels and a meeting between Mrs May and more than a dozen Tory MPs.
Remain-supporting Conservatives Anna Soubry and Nicky Morgan were two of the MPs to meet with Mrs May.
Ms Soubry said she trusted Mrs May to "honour the undertaking she gave".
Ms Morgan told Radio 4's Today programme that the prime minister's "personal assurance" was very important, adding that it was crucial for Parliament to have "a real say in all circumstances".