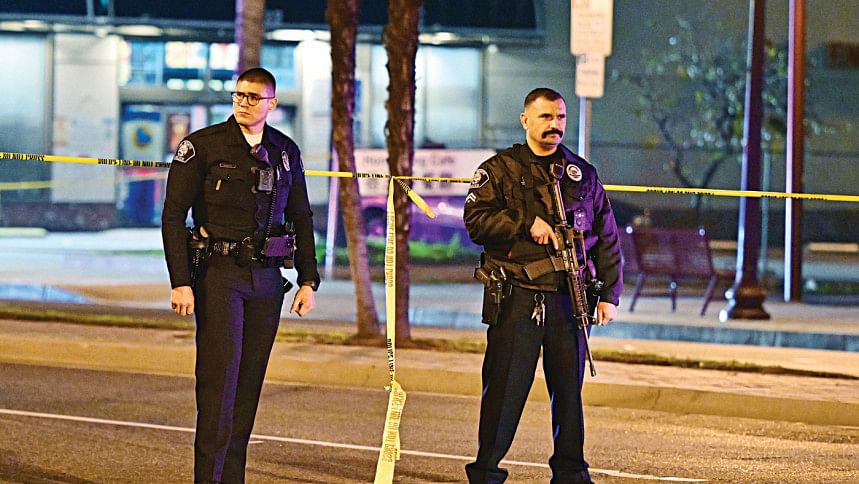 10 dead in California's Asian city
GBNEWS24DESK//
Ten people have died and at least 10 others have been wounded in a mass shooting in a largely Asian city in southern California, police said yesterday, with the suspect still at large hours later.
The gunman opened fire at a dance venue in Monterey Park, as the local community were celebrating Lunar New Year, with witnesses saying he shot indiscriminately with a semiautomatic weapon.
Captain Andrew Meyer of the Los Angeles County Sheriff's Department said officers had responded to emergency calls around 10:20pm on Saturday and found people pouring out of the premises.
"The officers made entry to the location and located additional victims," he said.
"The Monterey Park Fire Department responded to the scene and treated the injured and pronounced 10 of the victims deceased at the scene.
"There are at least 10 additional victims that were transported to numerous local hospitals and are listed in various conditions from stable to critical.
"The suspect fled the scene and remains outstanding."
Police gave no description of the wanted man, and did not say what kind of gun he used.
Monterey Park, about eight miles (13 kilometers) east of downtown Los Angeles, is home to around 60,000 people, the majority of them Asian or Asian American.
Meyer said detectives were also aware of another incident in the neighboring city of Alhambra.
"It's just too early in the investigation to know whether this incident was a hate crime or not," he told reporters.