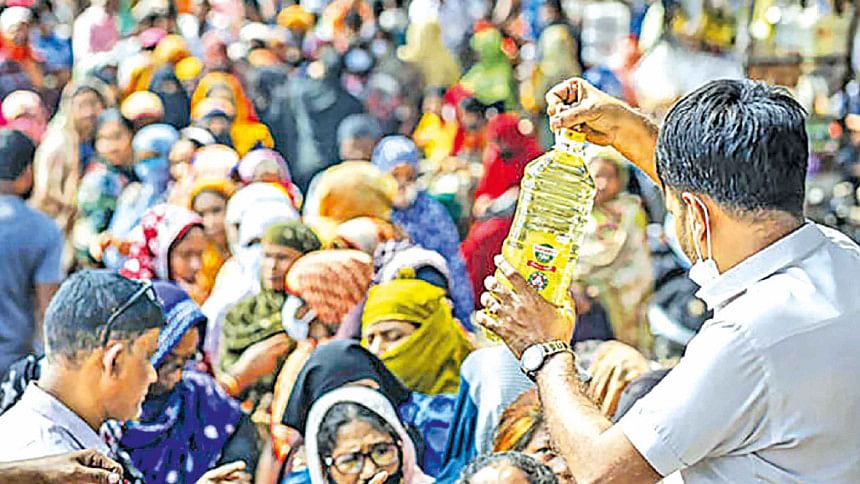 Price hike of essentials: the poor have their back against the wall
GBNEWS24DESK//
Abdul Wahab, a security guard at an ATM booth of a private bank in the capital, works 16 hours a day.
He and his two sons earn a total of about Tk 40,000 a month, but his nine-member family is still struggling to make ends meet as living costs have surged.
"We cannot even think of saving money. Rather, we sometimes need to borrow … it becomes very difficult to meet daily expenses when any of my family members falls sick," Wahab said while eating rice and fried egg for breakfast at the resting room inside the ATM booth on Monday morning.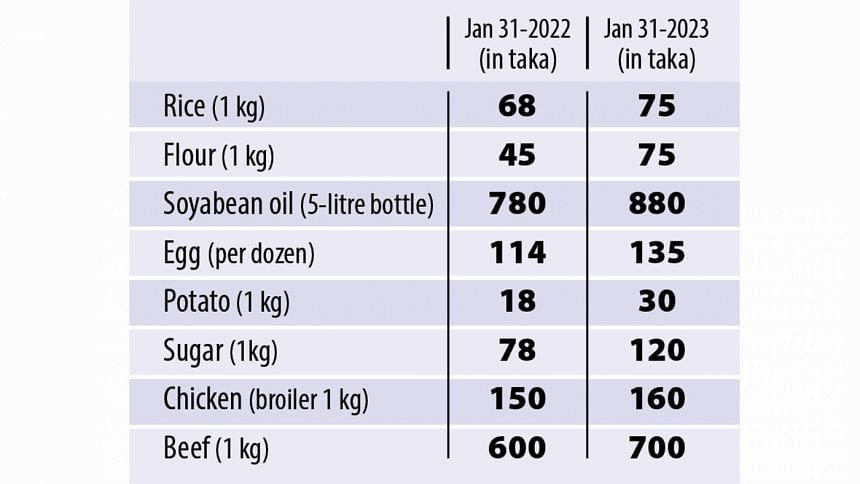 The 60-year-old, who earns Tk 12,250 a month, described how the situation worsened gradually in recent months.
The family's monthly expenses for house rent in Gandaria have gone up by Tk 2,000 from Tk 13,000 last month.
The expenses for food, school stationery, medicine and transport have also increased, said the security guard, adding that his family already cut the food intake to cope with the rising living costs.
"I've heard that the power price has gone up. I don't know how much more I will have to pay from next month for this increase. What more cuts do we need to make?" said Wahab.
He had to sell his clothing business in Sadarghat 10 years back. Finding no other source of income, he then had to start working as a security guard.
Like Wahab's, most middle- and low-income families in the country are forced to compromise on their standard of living due to high inflation.
The government on Tuesday increased the electricity price for the second time in a month.
According to a report of the Consumers Association of Bangladesh (CAB), middle-income people have suffered the most throughout 2022 as the average annual inflation rate was 11.08 percent in Dhaka city that year.
The study was prepared on the basis of monthly price data of 141 food items, 49 non-food products and 25 services. The data was collected from 11 markets in the Dhaka north and south city corporation areas.
Among the major items considered for the CAB report were rice, flour, pulse, bakery products, sugar, fish, eggs, domestic poultry, edible oil, imported fruits, vegetables, spices, tea, coffee, local and imported milk, washing and personal hygiene items, and transport costs.
The latest data of the state-run Trading Corporation of Bangladesh (TCB) shows that prices of almost all essentials have increased by between 1 percent and 151 percent year-on-year on average.
The price of potatoes usually remains low in winter, but things are different this winter as the price of the vegetable has shot up by 83.33 percent year-on-year. The price of both fine and medium-quality rice has soared by 3.77 percent and 5.47 percent during the same period.
The average prices of per kg wheat and flour have soared by 66.2 and 40.63 percent in the last one year, reads the TCB's January 31 market price report.
Shamim Ahmed, a resident of Hatirpool, said a medium-sized gourd used to sell for Tk 50 in winter a couple of years ago, but the same vegetable now costs Tk 80-90. A bundle of spinach was sold for less than Tk 10 back then against the current price of over Tk 15.
"People had hoped the prices of vegetables would drop in winter, but the prices didn't come down as expected," he said.
Nayeem Shahriar, an official of a public bank, said he has changed his breakfast menu.
"I used to have bread for breakfast every day. To reduce the consumption of flour, I now eat bread only on weekends."