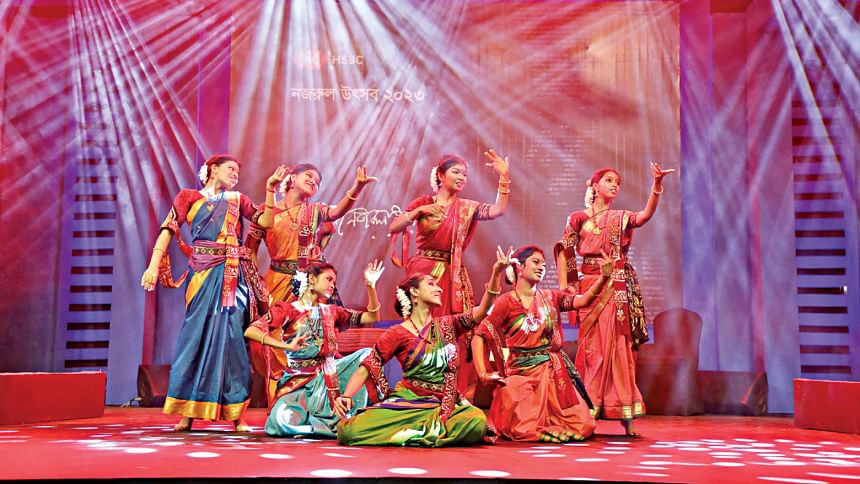 Nazrul Utsav concludes today
GBNEWS24DESK//
The second edition of Nazrul Utsav, organised in the capital's Gulshan Society Lake Park, is going to end today.
The two-day event was organised by Bangladesh Nazrul Sangeet Sangstha (BNSS), the High Commission of India in Dhaka and Gulshan Society.
HSBC Bank Bangladesh is the title sponsor of the event.
Commemorating the works of National Poet Kazi Nazrul Islam, the festival aims to celebrate the life and work of the poet by collaborating with artists from both sides of the border. This year, over 50 renowned senior and promising artists joined the festival.
Ekushey Padak-winning Nazrul Sangeet exponent Khairul Anam Shakil, also general secretary of BNSS, was the convener of the festival.
HSBC CEO Md Mahbub ur Rahman; Mrinmoy Chakraborty, director, Indira Gandhi Cultural Centre; and Khilkhil Kazi, granddaughter of Kazi Nazrul Islam and vice president, BNSS, also spoke at the inaugural ceremony.
State Minister of Cultural Affairs KM Khalid, inaugurated the festival as the chief guest.
The state minister spoke about the struggles Kazi Nazrul Islam had to undergo. "Had he shared the same background as Rabindranath Tagore, Bengal could have had another noble laureate," he said.
The first day of the programme was divided into several sections, including songs of Nazrul, dance performances, and recitations. The dance performance was organised by the team of eminent dancer Sharmila Banerjee.
Eminent cultural personality and lawmaker Asaduzzaman Noor, and Krishti Hefaz performed solo recitations. Renowned artists, including Supriya Das, Mohit Khan, Paromita Mumu, Priyanka Gope, Kaniz Husna Ahammadi Sympi, Pandit Tushar Dutta, Salauddin Ahmed, and Khilkhil Kazi, mesmerised the audiences with their performances.
The second and final day of the festival will be inaugurated by Education Minister Dipu Moni.