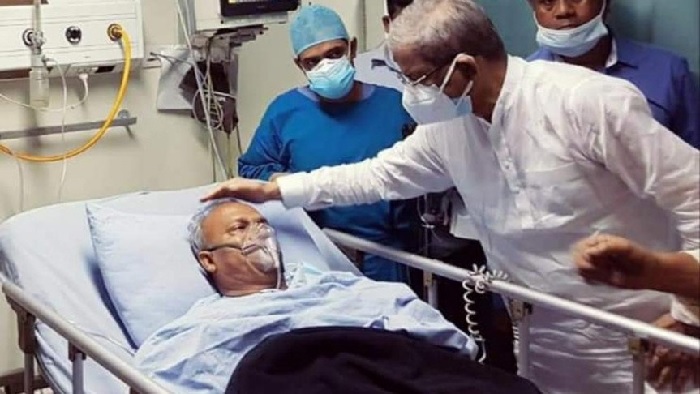 Mirza Fakhrul visits hospital to see ailing Rizvi
GBNEWS24 DESK//
BNP Secretary General Mirza Fakhrul Islam Alamgir on Tuesday visited the party's senior joint secretary general Ruhul Kabir Rizvi who was admitted to a hospital in the capital after heart attack.
Mirza Fakhrul Islam Alamgir went to Lab Aid Hospital at about 3:30pm to see Rizvi. He also inquired about the treatment of Rizvi from doctors.Leaders Dr AZM Zahid Hossain, Amanullah Aman, Abdus Salam, Mir Sarafat Ali Sopu, Mostafizur Rahman Babul, Shamimur Rahman Shamim, Rafiqul Islam, Mir Newaz Ali Newaz, Waresh Ali Mamun and Shayrul Kabir Khan, among others, were present.
Former secretary general of Doctors Association of Bangladesh (DAB) Prof Dr AZM Zahid Hossain told reporters that since Rizvi got admitted to the hospital after heart attack, nothing could be said right now. "His condition is critical. He has been kept under close monitoring. He is now undergoing treatment under the supervision of Prof Dr Sohrab Uz Zaman."
Mirza Fakhrul also said that BNP acting chairman Tareque Rahman was informed about the condition of Ruhul Kabir Rizvi over phone.
BNP Chairperson's Media Wing member Shayrul Kabir Khan said Ruhul Kabir Rizvi spoke as the chief guest at a human-chain formed by Jatiyatabadi Sramik Dal at the Jatiya Press Club premises at about 12:00noon. Later at about 1:00pm, he went to the party's central office at Nayapaltan.
Reaching the party's central office, Rizvi felt chest pain at about 1:15pm. Then he was rushed to Islami Bank Hospital at Kakrail. He was given primary treatment there. From there, he was shifted to Lab Aid Hospital.