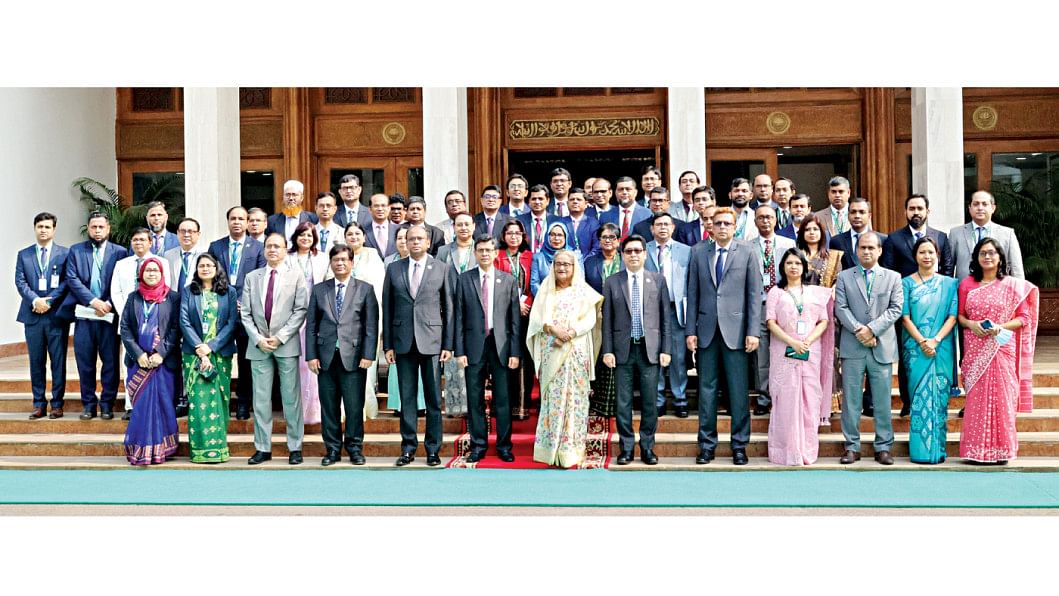 Keep economy in mind PM tells DCs on opening day of their conf'ce
GBNEWS24DESK//
Prime Minister Sheikh Hasina yesterday directed the deputy commissioners to cut their use of public funds and rein in non-essential projects.
She asked them to keep the global economic situation in mind and take measures to increase food production to be ready for a possible food crisis.
She also directed them to reduce their use of electricity.
These were among the 25 directives Hasina gave to the chief administrative and revenue officers of the districts while inaugurating the three-day DC Conference-2023 at the Shapla Hall of her office.
"While undertaking a project, you… should keep an eye on how effective it would be for the area, how many people would benefit from it, and ensure that there is no wastage… I don't like taking up projects everywhere indiscriminately. I want to implement projects that are immediately needed," reports UNB, quoting the PM as saying.
The government is not buying the electronic voting machines (EVM) because the priority now is to maintain food security, healthcare services, and people's welfare, she said.
"Why would we implement projects that are not needed now?" she asked.
She directed the DCs to ensure safe use of information technology and the internet and prevent the misuse of social media.
Ensure law and order and be vigilant so that no one can disrupt communal harmony by spreading rumours, she said.
Hasina asked the DCs to conduct regular mobile courts to prevent child marriage, sexual harassment, food adulteration and manufacture of counterfeit goods.
Work towards building a developed, prosperous and Smart Bangladesh by 2041, she said.
Referring to a speech of Father of the Nation Bangabandhu Sheikh Mujibur Rahman, Hasina told the DCs to serve the public as their salary and benefits come from taxpayers' money.
"Devote yourself to the people and you will get the mental satisfaction."
The DCs presented 245 proposals that include demands for more power and benefits.
However, government officials from different departments said some of those proposals, if approved, may aggrieve them.
The Gopalganj DC proposed forming of a coordination committee to identify new sources of revenue in districts and upazilas. Before the Covid pandemic, this particular proposal was made by a DC at the annual conference and it aggrieved the customs officials.
The DC also proposed formation of upazila-level health committees to ensure that the health department is properly doing its activities, said sources.
The job of maintaining buildings constructed by the public works department should be decentralised and funds should be directly allocated to the deputy commissioners, the DC demanded.
The Jhalakathi DC said development projects in an upazila should be implemented by the upazila parishad.
The DCs of Pirojpur and Jhalakathi said the DCs should be given the power to spend the development budget allocated by the public administration ministry to ensure efficient use of government resources.
The Khagrachhari DC proposed that the local administration be allowed to make inquiries in firearms use by the border guards eight kilometres away from the border.