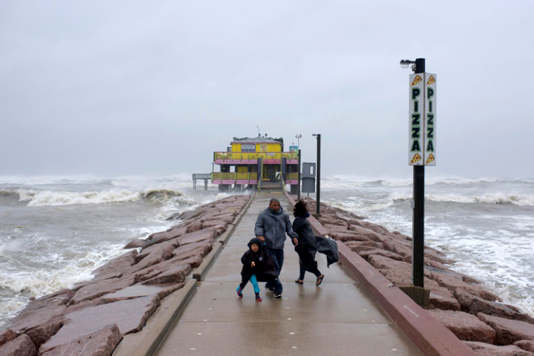 Hurricane Delta roars ashore on storm-battered US southern coast
GBNEWS24 DESK//
Hurricane Delta made landfall on the Louisiana coast Friday evening, packing ferocious winds and a "life-threatening" storm surge — and driving out residents still rebuilding from a devastating storm less than two months ago.
Delta became the 10th named storm of the year to make US landfall, a record, meteorologists said, reports AFP.
It roared ashore near Creole, Louisiana as a Category 2 storm on a scale of five, with winds of 100 miles per hour (155 kilometers per hour), the National Hurricane Center said.
"Damaging winds and a life-threatening storm surge continue over portions of southern Louisiana," the Miami-based center said, adding that one monitoring site was reporting a storm surge of eight feet (2.4 meters) above ground.
The storm — which the NHC said quickly weakened to a Category 1 as it moved inland — caused widespread power outages in the state.
In Lake Charles, a city in southwest Louisiana that was hit hard by Hurricane Laura on August 20, the streets were deserted Friday as a steady rain fell ahead of Delta's arrival.
The city is still in disarray from the more powerful Laura, which was a Category 4 and ripped roofs off houses and uprooted trees. Streets are still littered with debris.
"I don't even know if we'll have a house when we come back," said resident Kimberly Hester.