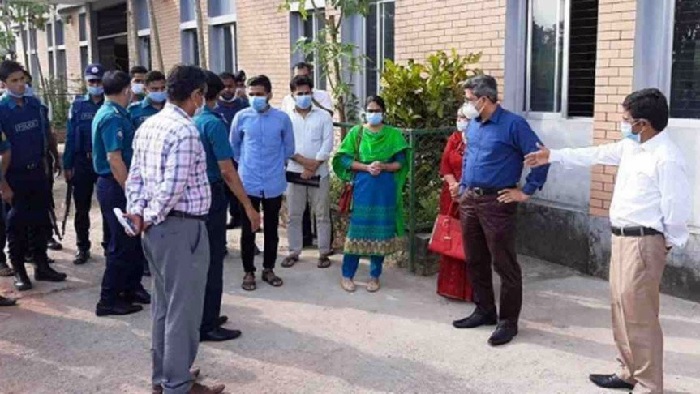 Gang-rape of Housewife: Judicial probe body visits MC College
GBNEWS24 DESK//
A four-member judicial inquiry committee formed to probe the organised gang-rape incident on Thursday visited MC College in Sylhet city.
Members of the committee arrived at the MC College hostel early in the afternoon.
They visited different hostels including a newly-constructed hostel. The committee members collected various information and data during their visit.
Earlier, they held a meeting with the college principal. Then they went to the students' hostel.
The committee is headed by Sylhet District and Sessions Judge Md Bazlur Rahman. Other members are Chief Metropolitan Magistrate Md Abul Kashem, Additional Metropolitan Sessions Judge Muminun Nesa and Additional Deputy Commissioner Sharmin Sultana.
High Court directed to form a judicial inquiry committee and probe the organised gang-rape of a young housewife at MC College hostel in Sylhet on September 29. The committee was asked to submit its report within 15 days.
At night on September 25 last, a young housewife became the victim of an organised gang-rape by a group of activists of Bangladesh Chhatra League (BCL) at MC College hostel. Receiving information, Shah Poran police went there and rescued the woman. The police later admitted her to Sylhet Osmani Medical College Hospital.
The victim housewife's husband filed a case on the following morning with Shah Poran Police Station naming six accused and three other unnamed accused. The law enforcers took a total of eight persons including six named accused under remand for questioning.
MC College authorities, Ministry of Education and National University have formed separate inquiry committees to prove the gang-rape incident.