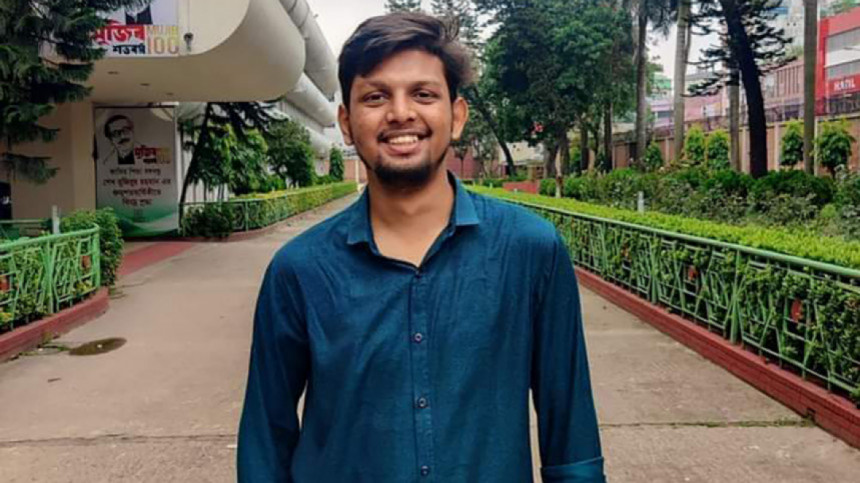 Fardin murder: No concrete clue yet
GBNEWS24DESK//
The circumstances of Buet student Fardin Noor Parash's murder are not clear yet, and at this stage, it cannot be said he was killed trying to buy drugs in Chonpara area of Narayanganj, DB officials said yesterday.
"We are still not saying he was killed trying to buy drugs. We are also not saying Bushra [victim's friend and an accused in the murder case] has anything to do with his murder," Mohammad Harun-Or-Rashid, additional commissioner of the Detective Branch of Dhaka Metropolitan Police, told the press at the DB headquarters in the capital's Minto Road.
"We are analysing different angles and clues, but we are yet to find anything concrete [including the motive for the murder]."
Commander Khandaker Al Moin, director of Rab's legal and media wing, came up with a similar statement.
"We are examining all the evidence at hand to crack the mystery of Fardin's death but are yet to come to a conclusion," he told The Daily Star yesterday.
The body of Fardin, a third-year student of civil engineering at the Bangladesh University of Engineering and Technology, was recovered from the Shitalakkhya river at Banani Ghat in Narayanganj's Siddhirganj on November 7.
He went missing after he dropped his friend Amatullah Bushra in Rampura on November 4 night.
Some media outlets, citing anonymous sources in the law enforcement, have run reports that Fardin was killed by drug peddlers at Chonpara.
At yesterday's briefing, Harun said the DB did not say anything like that and that there are other units of law enforcers involved in the investigation.
Fardin's family and fellow students claimed he was not addicted to any drug.
Investigators say Fardin's last cell phone location was traced near a tower at Chonpara. The phone remained active till 2:45am the next day.
It was later recovered from Fardin's pocket.
Sources involved in the investigation said that a day after Fardin's body was recovered, river police found another body of an unidentified man, around 30-year-old, from Narayanganj's Pagla area.
Unidentified, it was later buried by the police.
Till yesterday, no one contacted the police or hospital morgues regarding the body.
Investigators are now trying to identify the victim and find whether the two deaths have any connection, they said.
Shajahan Ali, sub-inspector of Pagla river police outpost, said the body was fresh and there were three injury marks that may have been from stabs.
"We found it not more than 24 hours since the victim's death," he said.
The DB was tasked with investigating Fardin's murder on Thursday, hours after his father filed a case with Rampura Police Station.