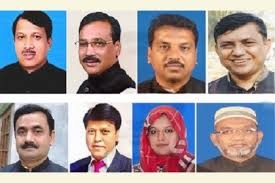 Ex-state minister Omar Faruk, 6 other MPs booked for corruption by ACC
GBNEWS24 DESK//
Former State Minister for Industries Omar Faruk is one of the seven lawmakers to have been trapped in graft investigation for committing corruption and amassing huge wealth.
Most of them are ruling party lawmakers, reports a private television on Sunday.
Six others are Jatiya Sangsad Whip and Chattogram 12 lawmaker Md Shamsul Huque Chowdhury, Sunamganj-1 MP Moazzem Hossain Ratan, Bhola-3 MP Nurunnabi Chowdhury Shaon, Barisal-4 MP Pankaj Debnath and Lakshmipur- 2 independent MP Mohammad Shahid Islam Papul.
The anti-graft watchdog has allegedly found the existence of huge wealth in possession of lawmakers, their wives and family members.
Anti-Corruption Commission (ACC) started investigation into properties of Lakshmipur- 2 independent MP Mohammad Shahid Islam Papul who was arrested and prosecuted by Kuwait authorities in graft and human trafficking cases.
Later, ACC moved to investigate wealth of his wife and reserved seat lawmaker Selina Islam.
Rajshahi-1 lawmaker Omar Faruk is found to be involved in embezzling public properties and committing other corruptions.
Bangladesh Financial Intelligence Unit (BFIU) has also detected plenty of wealth belonging to wives and children of the above lawmakers.
Dr Md Mozammel Haque Khan, ACC Commissioner, said the anti-graft watchdog has collected income tax files of the lawmakers and their family members for scrutiny.