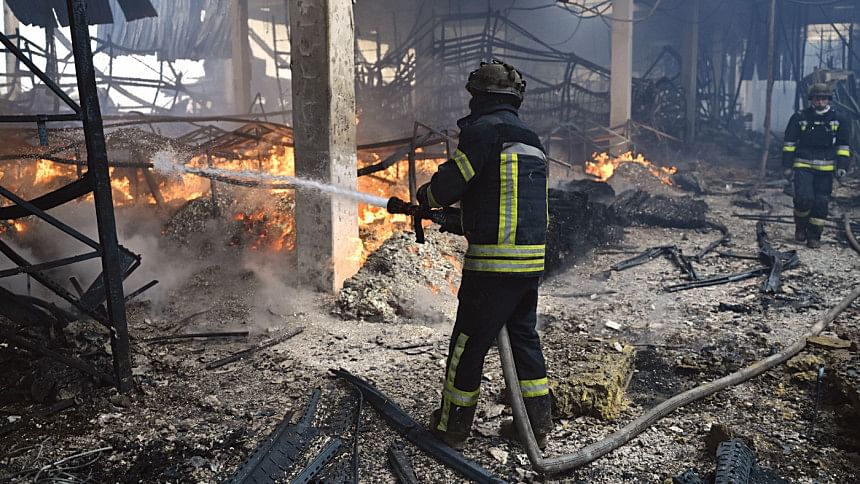 EU pledges more support for Ukraine
GBNEWS24DESK//
The EU yesterday pledged to support Ukraine "every step of the way" in its quest for bloc membership as top officials gathered in Kyiv for a highly symbolic summit.
Ukrainian President Volodymyr Zelensky pressed the bloc for speedy membership as it battles to defeat a nearly year-long Russian invasion.
The EU granted candidate status to Ukraine last June, but the path to full membership is likely to be fraught and could take years.
EU chief Charles Michel announced his arrival in the Ukrainian capital as air raid sirens sounded, vowing that there will be "no let up in our resolve."
"We will also support you every step of the way on your journey to the EU," Michel said.
The bloc's chief Ursula von der Leyen and the EU's most senior diplomat, Josep Borrell, also attended the summit.
The EU, in a statement after the summit, said Ukraine had made "considerable efforts" to advance towards membership but urged Kyiv to implement more reforms, reports AFP.
The bloc said it "encouraged the country to continue on this path and to fulfil the conditions specified in the Commission's opinion on its membership application in order to advance towards future EU membership."
The bloc plans to ramp up efforts to use Russian frozen assets to compensate Ukraine war damage.
"The EU will also step up its work towards the use of Russia's frozen assets to support Ukraine's reconstruction and for the purposes of reparation, in accordance with EU and international law," the statement said.
The European Union and Kyiv also backed plans to set up an international prosecution office in The Hague to help investigate Russia for the "crime of aggression" in Ukraine.
Meanwhile, Germany has approved a delivery of Leopard 1 main battle tanks to Ukraine from industrial stocks, government spokesperson Steffen Hebestreit said.
Hebestreit confirmed "an export licence has been issued" for the delivery by a private arms-marker of its older Leopard 1 tanks, but did not provide further details.
Addressing the news conference with the top EU officials following the summit in Kyiv yesterday, President Volodymyr Zelensky said Ukraine would fight to hold on to the eastern "fortress" city of Bakhmut for as long as it could, and urged the West to supply long-range weapons to help Kyiv push Russian forces out of the Donbas region.