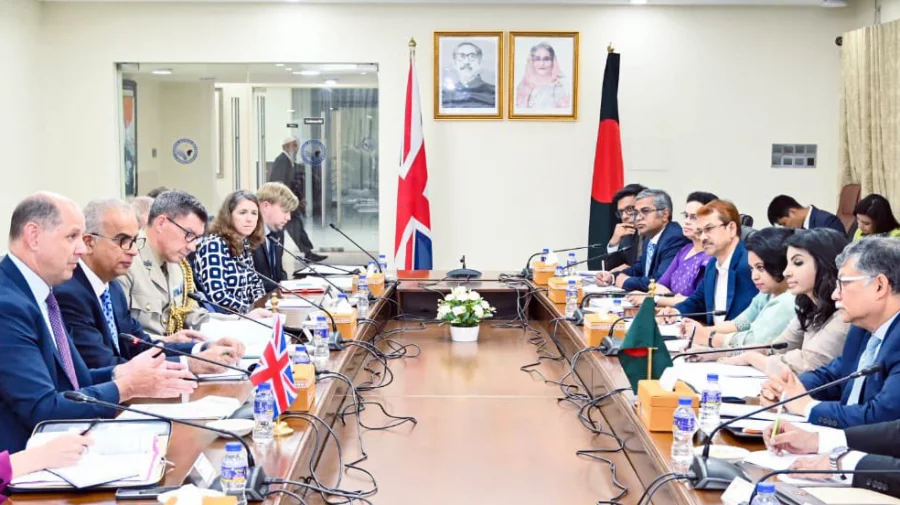 Bangladesh, UK mull MoUs on economic ties, cybersecurity
The foreign ministry in a statement on Wednesday on the fifth Bangladesh-UK strategic dialogue held a day prior in Dhaka said the two sides were considering MoUs on economic cooperation and cybersecurity.
Foreign Secretary Masud Bin Momen and his UK counterpart, Permanent Under-Secretary Sir Philip Barton, led the two sides and reviewed the entire gamut of relations between the two Commonwealth nations, including political, economic, security and defence, migration and mobility, and climate and development partnerships.
After the meeting, the foreign secretary on Tuesday said both sides had agreed to constitute a joint working group to discuss migration, mobility and mutual recognition of qualifications, and agreed to sign a standard operating procedure (SOP) on returns of Bangladesh nationals in irregular situations in the UK.
On Wednesday, the foreign ministry gave further details of the dialogue.
Bangladesh thanked the UK for a significant increase in issuance of student, visit and business visas in 2022. The two sides also discussed mutual legal assistance in criminal matters.
Expressing satisfaction at record-breaking bilateral trade to the tune of $6.4 billion in 2022-23 and $561 million in FDI from the UK, the highest from any country in 2022, Bangladesh and the UK agreed to create new institutional cooperation to promote business, trade and investment.
In this regard, they agreed to consider signing a new MoU on economic cooperation.
The UK commended the remarkable socioeconomic progress and resilient economic growth achieved by Bangladesh over the past decade.
The Bangladesh foreign secretary commended the UK's sustained market-access support to Bangladesh as its third-largest export destination and urged its extension until 2029 and beyond following Bangladesh's scheduled LDC graduation in 2026.
Recalling the Climate Accord signed between Bangladesh and the UK in March, both sides expressed their determination to cooperate on climate action bilaterally and multilaterally.
They also agreed to sign a joint action plan with time-bound activities under the Climate Accord towards a net-zero and nature-positive world.
Sir Philip Barton encouraged a free, fair, violence-free and participatory election in Bangladesh.
He underlined the importance of media freedom for the sustainable progress and prosperity of Bangladesh.
Bangladesh expressed its commitment to forging ahead with its national targets under SDG 16 to build a just, peaceful and inclusive society.
The Bangladesh foreign secretary reiterated Bangladesh's zero-tolerance policy on terrorism, violent extremism and radicalization.
Both sides agreed to intensify cooperation and capacity building on global and regional security issues of mutual interest, including maritime and aviation safety and security in the Indian Ocean as well as countering extremist and terrorist outfits.
Both sides agreed to explore the signing of an MoU on cooperation in cybersecurity.
The UK commended Bangladesh's leading contribution to world peace under UN peacekeeping missions, especially praising one of the highest contributions of female peacekeepers by Bangladesh.
The two countries expressed satisfaction at the first defence dialogue held last year and agreed to sign an MoU on defence cooperation during the upcoming second dialogue in London.
The UK appreciated Bangladesh's generous hosting of Rohingyas from Myanmar and Bangladesh appreciated the UK's humanitarian and political support to the Rohingya crisis, including at the UN Security Council and Commonwealth. Both sides expressed concern about the protracted Rohingya crisis and reaffirmed their commitment to working closely towards a voluntary, safe and sustainable return of Rohingyas to their homeland in Myanmar.
Emphasizing the importance of international accountability for atrocities committed against Rohingyas, the Bangladesh foreign secretary thanked the UK for joining the Rohingya justice case at the ICJ.
The UK side welcomed Bangladesh's recently announced Indo-Pacific outlook. Both sides agreed to forge new partnerships towards ensuring a free, open, peaceful, secure and inclusive Indo-Pacific for shared prosperity.
Bangladesh and the UK agreed to intensify cooperation in different regional and multilateral forums, including the UN, Commonwealth, IMO and IORA.
Bangladesh High Commissioner to the UK Saida Muna Tasneem and British High Commissioner to Bangladesh Sarah Cooke joined their respective delegations along with representatives from various ministries and agencies of the two countries.
The next round of strategic dialogue is expected in London next year.
GBDESK//