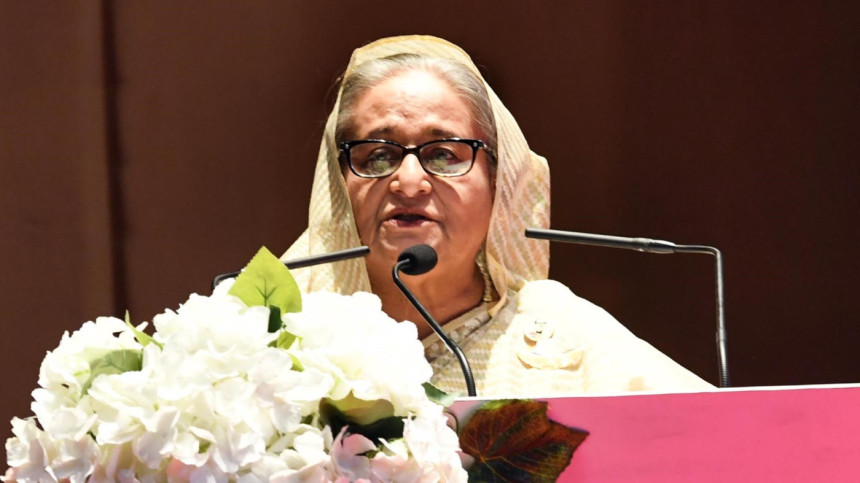 A vested quarter out to mislead people: PM
GBNEWS24DESK//
Prime Minister Sheikh Hasina today said a vested quarter continues to mislead people by spreading rumours but there is nothing to worry about.
The vested quarter is misleading people by stoking up fears, and this will continue in the coming days, she said urging people not to be misguided by such propaganda.
The PM was addressing the graduation ceremony of the National Defence Course-2022 and Armed Forces War Course-2022 at the Sheikh Hasina Complex of Defence Services Command and Staff College (DSCSC) at Mirpur Cantonment.
Talking about the global economic crisis stemming from the Russia-Ukraine war, she said her government has been able to maintain stability in the country.
"We'll continue to make socio-economic development, keeping Bangladesh free from terrorism, militancy, drugs and corruption. We don't want war with anyone," she added.
The PM said her government was able to raise the foreign currency reserves to $48 billion amid the Covid pandemic from only $5 billion in 2009. Then the money from the reserves was used to buy Covid vaccines and testing kits, and also food and other commodities.
"Unless we can attain economic self-reliance, we won't be able to uphold our independence and its spirit. So, we've been working to accomplish the goal," she noted.
The PM said the Armed Forces always stand beside the people in any disaster and trouble. They earned public trust and confidence.
She also congratulated the fresh NDC and AFWC graduates on the successful completion of their courses.